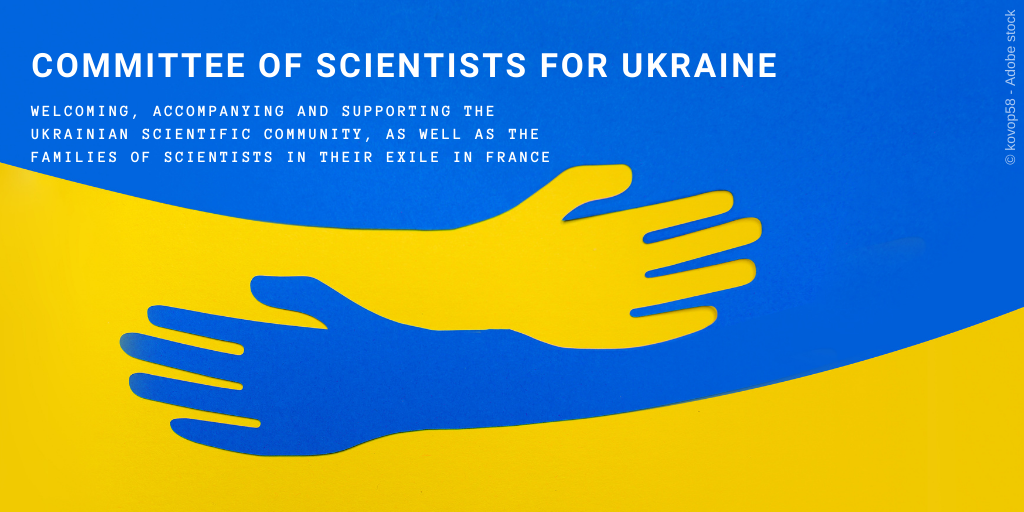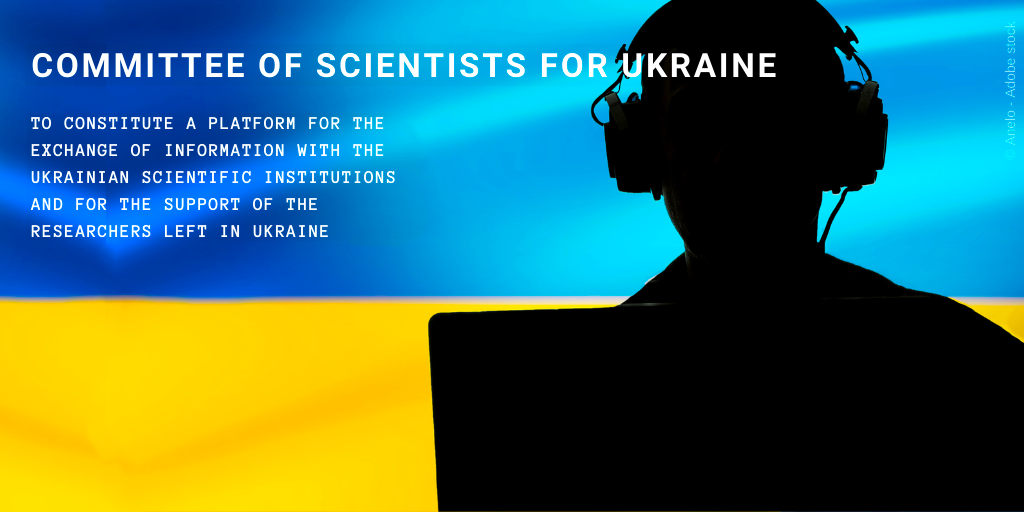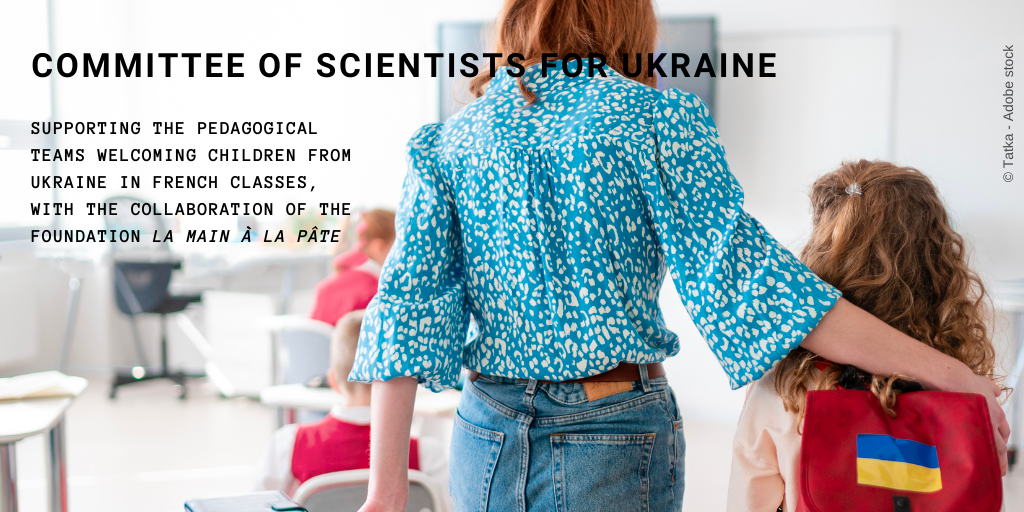 --->
Ukrainian version
Deeply shocked by the invasion of Ukraine by the army of the Russian Federation, the French Académie des sciences has publicly expressed on several occasions its solidarity with the Ukrainian Academies (The National Academy of Sciences of Ukraine, National Academy of Educational Sciences of Ukraine and Junior Academy of sciences of Ukraine), and through them, with all scientists and, more generally, with the Ukrainian people.
Today, with its strong national and international scientific ties, the French Académie des sciences is establishing a Committee of Scientists for Ukraine (CSU) to:
• Welcome, accompany and support the Ukrainian scientific community, as well as the families of scientists, in their exile in France;
• Constitute a platform for the exchange of information with the Ukrainian scientific institutions and to support the researchers who remained in Ukraine;
• Accompany the educational teams welcoming children from Ukraine in classes in France, with the collaboration of the Foundation La main à la pâte.

The CSU has a Sponsoring Committee composed not only of members of the French Académie des sciences who are particularly active and committed to supporting Ukrainian scientists, but also of external personalities. Members of the Sponsoring Committee;
List as of 5 April 2022: Daniel ANDLER, Martin ANDLER , Édouard BRÉZIN, Sabine DULLIN, Anne EPHRUSSI, Patrick FLANDRIN, Emmanuelle GARNIER, Étienne GHYS, Alice GUIONNET, Édith HEARD, François HERAN, Jean ILIOPOULOS, Pierre LENA, Jean-Pierre MAHÉ, Marc MÉZARD, Christelle ROY, Antoine TRILLER, Francis-André WOLLMAN.

The term "scientists" includes researchers and academics as well as health personnel, engineers, teachers and students.


Axis 1 | Welcoming, accompanying and supporting the Ukrainian scientific community, as well as the families of scientists in their exile in France
For example, for people recently arrived in France or those who are in contact with people recently arrived, the Committee of Scientists for Ukraine:
• proposes a personalized accompaniment towards the structures of reception and support in all the fields of the humanitarian assistance which exist on the national territory;
• provides links to general and specialized websites (with references to the CSU's actions on these websites);
• offers a relay to ensure logistical support throughout the country via its links with the scientific community in the various French regions;
• offers individualised financial assistance to Ukrainian refugee families in France whose head of household is a scientist. Each request will be studied individually. This support will be granted on a one-off basis for a period of 3 months, possibly renewable depending on the evolution of the situation.




To learn more about the assistance offered by the French Académie des sciences to the Ukrainian scientific community in Ukraine, write to us at
Axis 2 | To constitute a platform for the exchange of information with the Ukrainian scientific institutions and for the support of the researchers left in Ukraine
The Committee of Scientists for Ukraine wishes to be present at the sides of the scientists who remained in Ukraine by
• allowing Ukrainian scientists in France to continue to interact with their colleagues in Ukraine;
• provides financial support to the National Academy of Sciences of Ukraine to support scientists remaining in Ukraine.

It is part of the international network of support for scientists and more broadly for the citizens of Ukraine alongside:
• European Federation of Academies of Sciences and Humanities (ALLEA)
• International Scientific Council (ISC) [to read the statements of their member organizations]
• The National Academies of Science, Engineering and Medicine (USA) [to read their statement]
• European Academies Science Advisory Council (EASAC)
• InterAcademy Partnership (IAP)





To learn more about the assistance offered by the French Académie des sciences to the Ukrainian scientific community in Ukraine, write to us at
Axis 3 | Supporting the pedagogical teams welcoming children from Ukraine in French classes, with the collaboration of the Foundation La main à la pâte
French schools already welcome, or will welcome, refugee children fleeing from Ukraine.
The Committee of Scientists for Ukraine, with the support of the Foundation La main à la pâte and the company Trapèze Digital, proposes a first series of pedagogical tools for primary and secondary school teachers. Translated into Ukrainian by members of the Junior Academy of Sciences in Kiev, they are intended to facilitate dialogue with children, in class or independently. A second series on mathematics will be proposed.
It also provides support to the association École ukrainienne de Paris for the implementation of educational projects (in particular scientific) for refugee children from Ukraine.
• Discover the pedagogical tools
• Read the letter to school and college teachers




In order to answer to your needs and expectations, please send us your questions and feedbacks at
Some useful websites for the Ukrainian scientific community in exile:
• The PAUSE program: https://www.programmepause.org/?page_id=1870&lang=en
• The website of the initiative "science in exile" at the international level: https://scienceinexile.org/
• The website #ScienceForUkraine: https://scienceforukraine.eu/support.html
• The website of the association Femmes & Sciences dedicated to the reception of Ukrainian women scientists in exile who arrive in France: https://www.femmesetsciences.fr/news/accueil-des-femmes-ukrainiennes
• The website of​ acc&ss FnAK: https://www.fnak.fr/en/
• The website of the​ Austrian Academy of Sciences: https://stipendien.oeaw.ac.at/en/fellowships/jesh-ukraine