Patrick Couvreur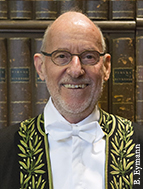 Élu membre le 18 novembre 2014
Section : Chimie
Patrick Couvreur est professeur émérite de pharmacotechnie et biopharmacie à l'Université Paris-Saclay et membre senior de l'Institut Universitaire de France (IUF). De 1998 à 2010 il a dirigé l'UMR CNRS 8612, actuellement Institut Galien (une centaine de chercheurs), et en 2000 il a créé l'école doctorale Innovation thérapeutique (environ 300 étudiants en thèse) qu'il a dirigée jusqu'en 2006. Il occupe ou a occupé des fonctions au niveau de la direction de nombreuses organisations internationales (Fédération Internationale Pharmaceutique FIP, Controlled Release Society USA, European Federation of Pharmaceutical Sciences EUFEPS, président d'un panel de l'ERC etc.).

Titulaire de la Chaire d'innovations technologiques du Collège de France (2009-2010), il a obtenu pour ses travaux un ERC Advanced Grant et un ERC Proof of Concept de l'European Research Council. Patrick Couvreur est reconnu au niveau international en raison de ses travaux pionniers dans le domaine de la vectorisation des médicaments (nanomédicaments) pour le traitement des maladies graves (cancers, maladies infectieuses et maladies du système nerveux central). Ses recherches ont été couronnées par de nombreuses distinctions scientifiques en France (Prix Galien 2009, Médaille de l'Innovation du CNRS 2012, Grand Prix Achille le Bel 2019) et à l'étranger (2004 Pharmaceutical Sciences World Congress Award, la prestigieuse Host-Madsen Medal en 2007, l'European Pharmaceutical Scientist Award en 2011, l'European Inventor Award 2013, le Peter Speiser Award 2014, le Takeru & Aya Higuchi 2015 au Japon etc.). Patrick Couvreur est aussi Docteur Honoris Causa des universités de Gand (Belgique) et de Montréal (Canada). Il a publié plus de 600 articles de recherche dont certains dans des revues prestigieuses (Nature Materials, Nature Nanotechnology, Nature Communications, Proceedings of the National Academy of Sciences, Science Advances, Angewandte Chemie, Cancer Research, JACS etc.). Il est l'inventeur de plus de 90 brevets et a publié 8 ouvrages.

En France, Patrick Couvreur est membre de l'Académie des sciences, de l'Académie des technologies, de l'Académie Nationale de Médecine et président honoraire de l'Académie Nationale de Pharmacie. Il est également membre étranger de la National Academy of Medicine (USA), de la National Academy of Engineering (USA), de l'Académie Royale de Médecine (Belgique), de la Real Academia Nacional de Farmacia (Espagne) et de l'European Academy of Sciences. Il a contribué à la création de trois start-ups (Bioalliance, 60 employés, devenu ONXEO et cotée en bourse depuis 2005, Medsqual et Squal Pharma aux USA). Un nanomédicament issu des recherches de Patrick Couvreur a fait l'objet d'essais cliniques jusqu'en fin de phase III pour le traitement de l'hépatocarcinome résistant.