Lauréats 2019 du grand prix scientifique franco-taïwanais : François Treussart et Huan-Cheng Chang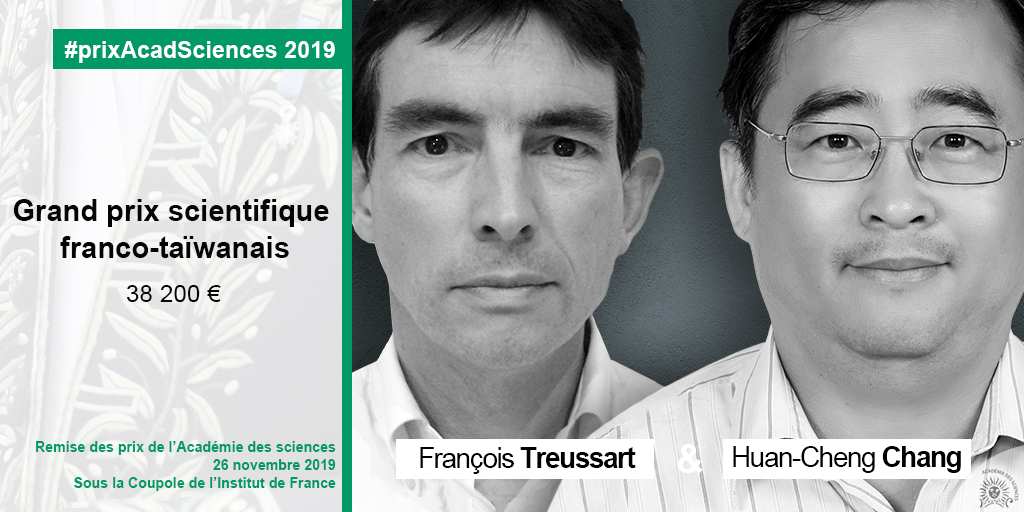 Le prix franco-taïwanais, décerné par le Ministry of Science and Technology of Taiwan (MOST) et l'Académie des sciences, récompense et encourage un binôme scientifique franco-taiwanais pour sa contribution scientifique dans un domaine d'intérêt pour les deux pays.

En 2019, il est décerné conjointement à François Treussart et Huan-Cheng Chang, pour leur recherche, à la frontière de la physique, la chimie et la biologie, sur l'utilisation de nanocristaux de diamant fluorescents dans l'imagerie neuronale.
François Treussart est professeur à l'École Normale Supérieure Paris-Saclay, physicien spécialiste en optique quantique et de ses applications à la fluorescence des centres colorés dans les nanoparticules de diamant.

Huan-Cheng Chang est professeur au département de chimie de l'Université Nationale de Taiwan et Distinguished Research Fellow de l'Institute of Atomic and Molecular Sciences de l'Academia Sinica. Il a été pionnier dans le développement des nanoparticules de diamants fluorescents et de leurs applications aux domaines biomédicaux.
François Treussart et Huan-Cheng Chang collaborent depuis 2007. Leur recherche a abouti à la publication de plusieurs articles dans des journaux à fort impact ainsi qu'à de nombreux échanges de doctorants, post-docs et professeurs invités.

L'Académie leur rend hommage à l'occasion de la remise solennelle de leur prix sous la Coupole de l'Institut de France, le 26 novembre 2019.