Jean-Pierre Sauvage, prix Nobel de chimie 2016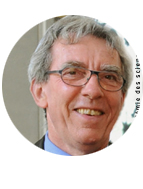 L'Académie des sciences se félicite de l'attribution du prix Nobel de chimie 2016 à Jean-Pierre Sauvage, l'un de ses membres, for the design and synthesis of molecular machines. Il partage le prix avec J. Fraser Stoddart et Bernard L. Feringa.
Jean-Pierre Sauvage a été élu correspondant de l'Académie des sciences le 26 mars 1990, puis membre le 24 novembre 1997 dans la section de chimie.
Lire l'article de l'Actualité chimique