Éric Calais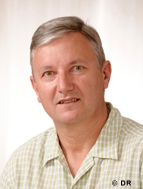 Élu membre le 5 décembre 2017
Section : Sciences de l'univers et Inter-section des applications des sciences
Éric Calais est professeur à l'École normale supérieure (Paris) et membre senior de l'Institut universitaire de France. Ancien élève de l'ENS Saint Cloud (agrégation en 1987), il obtient sa thèse en sciences de la Terre à Nice en 1991. Il est chercheur associé à la Scripps Institution of Oceanography aux USA de 1992 à 1995, chargé de recherche au CNRS (OCA-Nice) de 1995 à 2001, puis professeur à Purdue University (USA) jusqu'en 2012. Il y est distingué University Scholar en 2005, est lauréat en 2008 du prix Jacob-Fallot-Jérémine de l'Académie des sciences et reçoit, en 2012, le prix Frank Press de la Seismological Society of America.

Éric Calais est un géologue-géophysicien, praticien internationalement reconnu de la géodésie spatiale de haute précision (GPS et interférométrie radar InSAR) et pionnier de ses applications à la mesure des déformations sismiques aux frontières des plaques tectoniques et dans leurs intérieurs Il combine une approche méthodologique pointue permettant d'améliorer précision et exactitude des mesures et le développement de modèles géophysiques, avec comme objectif fondamental une meilleure compréhension de la physique des processus géologiques dans les zones sismiques actives.

Ses travaux ont établi les bases de la cinématique actuelle des régions frontières des plaques tectoniques dans la Caraïbe, en Asie, en Méditerranée occidentale et en Afrique de l'Est, fournissant de fait le cadre dans lequel interpréter la sismicité qui s'y déroule. Il montre que le magmatisme des rifts est moteur de la rupture continentale, identifie le rôle du manteau dans la déformation géologique à grande échelle en Afrique et en Asie et déchiffre le mécanisme complexe du séisme d'Haïti (2010). Ses travaux sur les séismes dans les régions intra-plaques à très lente déformation amènent à un changement de paradigme : il montre que ces séismes sont déclenchés par des perturbations transitoires des forces tectoniques et non par l'accumulation lente de ces forces sur des failles persistantes. Les implications de ces résultats sur l'estimation de l'aléa sismique dans ce type de région sont majeures. Il est aussi pionnier de l'utilisation du GPS pour la détection des perturbations ionosphériques induites par les séismes et les éruptions volcaniques.

Au-delà de cette œuvre académique, Éric Calais s'investit dans les relations entre science et société, en particulier au travers de son expérience en Haïti suite au séisme de 2010. Très sollicité en raison de sa connaissance scientifique de la région Caraïbe, il est nommé co-président "science" de la Haiti Seismic Task Force des Nations Unies et travaille pendant deux ans en Haïti comme conseiller scientifique auprès de l'ONU et du gouvernement haïtien – tout en poursuivant ses activités de recherche. Il offre une réflexion générique sur ce thème dans son livre "Science et conscience dans la post—urgence du séisme d'Haïti" (L'Harmattan, 2017).
Voir le CV
Voir le site Internet
Coordonnées

École normale supérieure
24 rue Lhomond
75231 Paris cedex 05
France