Lauréate 2019 du prix Guy Lazorthes : Nathalie Cartier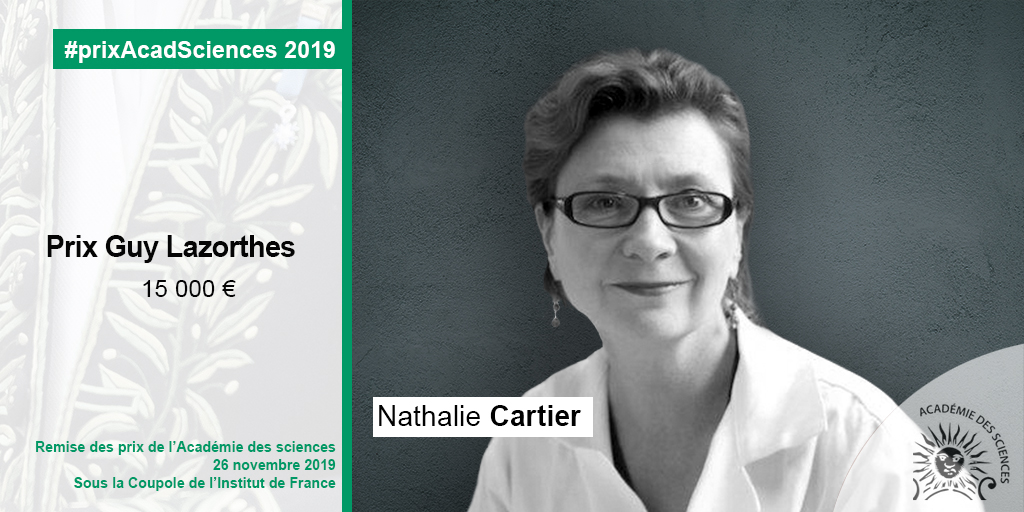 Le prix Guy Lazorthes 2019 est décerné à Nathalie Cartier. Directrice de recherche à l'Institut national de la santé et de la recherche médicale, elle dirige une équipe à l'Institut du cerveau et de la moëlle épinière (ICM) à Paris.

Nathalie Cartier a été présidente de la "European Society of Cell and gene therapy" et elle co-coordonne également le DIM (Domaine d'intérêt majeur) biothérapie de la région Ile-de-France.
Elle est une spécialiste mondialement reconnue dans le domaine de la thérapie génique et des vecteurs viraux. Elle a tout d'abord contribué à la mise au point du premier traitement de la leucodystrophie métachromatique, une maladie génétique qui entraine de sévères déficits neurologiques et moteurs, et se déclenche le plus souvent pendant l'enfance.
Ses travaux les plus récents ont mis en évidence une accumulation anormale du cholestérol (un des constituants principaux des membranes cellulaires) dans les neurones de patients atteints de diverses maladies neurologiques telle que la maladie d'Alzheimer.
Son équipe développe actuellement un essai de thérapie génique visant à rétablir un taux normal de cholestérol, et ainsi de freiner l'évolution de la maladie. Cette approche pourrait aussi s'appliquer à la maladie de Huntington.


L'Académie lui rend hommage à l'occasion de la remise solennelle de son prix sous la Coupole de l'Institut de France, le 26 novembre 2019.