Leonard Mortenson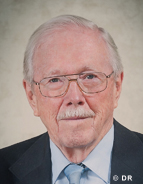 24 juin 1928 - 30 octobre 2017
L'Académie des sciences a le profond regret de faire part du décès de Leonard Mortenson, survenu le 30 octobre 2017, à l'âge de quatre-vingt-neuf ans. Il avait été élu correspondant de l'Académie le 1er juin 1966 dans la section de Biologie intégrative.
Professeur honoraire à l'université de Purdue à Lafayette (États-Unis), Leonard Mortenson était un biochimiste spécialisé dans la fixation de l'azote par les bactéries. Il est à l'origine de la purification de la ferrédoxine, une protéine fer-soufre réalisant des transferts d'électrons dans un grand nombre de réactions d'oxydoréduction du métabolisme cellulaire La ferrédoxine sert non seulement de donneur d'électrons pour l'enzyme fixant l'azote, mais également de transporteur d'électrons dans de nombreuses réactions métaboliques aérobies et anaérobies.
Lauréat du prix Purdue Herbert Newby McCoy ainsi que du prix Hoblitzelle, Leonard Mortenson était également membre de l'American Society of Biological Chemists et de l'American Institute of Chemists.
En savoir plus sur le site de la société américaine de microbiologie