Gilbert Stork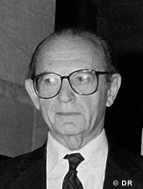 31 décembre 1921 - 21 octobre 2017
L'Académie des sciences a le profond regret de faire part du décès de Gilbert Stork, survenu le 21 octobre 2017, à l'âge de quatre-vingt-quinze ans. Il avait été élu membre associé étranger de l'Académie le 20 mars 1989 dans la section de Chimie.
Professeur émérite à l'université de Columbia, Gilbert Stork était un chimiste spécialiste des synthèses. Il est particulièrement connu pour son travail de pionnier sur la chimie de l'énamine, menant au développement de la réaction de Stork. Il a également été à l'origine d'une série impressionnante de synthèses totales stéréosélectives : des terpènes comme le lupéol ou la progestérone, des alcaloïdes comme l'aspidospermine, ou encore la griséofulvine, un antifongique utilisé comme médicament pour traiter certaines dermatophytoses.
Membre de la National Academy of Science des États-Unis, de la Royal Society du Royaume-Uni, et de l'Académie américaine des arts et des sciences, Gilbert Stork était lauréat de nombreux prix nationaux et internationaux parmi lesquels le prix Wolf de Chimie ou encore la National medal of science.