Fotis Kafatos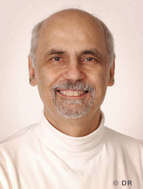 16 avril 1940 - 18 novembre 2017
L'Académie des sciences a le profond regret de faire part du décès de Fotis Kafatos, survenu le 18 novembre 2017, à l'âge de soixante-dix-sept ans. Il avait été élu membre associé étranger de l'Académie le 18 mars 2002 dans la section de Biologie intégrative.
Professeur à l'Imperial College de Londres, président fondateur de l'European research Council, Fotis Kafatos était un biologiste spécialisé en biologie moléculaire. Il a contribué au développement de la technologie de clonage de l'ADN complémentaire (ADNc) et a travaillé sur les mécanismes de différenciation cellulaire conduisant à la formation des œufs chez les insectes. Il a participé au séquençage du génome de la mouche drosophile Drosophila melanogaster. Il a par la suite axé ses recherches sur le paludisme en participant au séquençage du génome du moustique Anopheles gambiae, afin de comprendre pourquoi certains individus étaient porteurs du parasite plasmodium, vecteur de la malaria, et d'autres non.
Fotis Kafatos a eu un rôle central dans le déclenchement de l'intérêt du gouvernement grec pour la science, avec la création de la Faculté de biologie de l'Université d'Athènes, la Faculté de biologie de l'Université de Crète et l'Institute of Molecular Biology and Biotechnology à Héraklion.
Membre de la National Academy of Science des États-Unis, de la Royal Society du Royaume-Uni, de l'EMBO et de l'Académie pontificale des sciences, Fotis Kafatos était lauréat du prix du 25e anniversaire de Louis-Jeantet, de la médaille Robert Koch et de la médaille Leibnitz.