Scientific symposium Frontiers in Heritage Science / 4 days

The Institut de France hosted​ the World Meeting on Heritage, Sciences and Technologies from 13 to 16 February 2019. Organized by the Académie des sciences, the CNRS and its IPANEMA laboratory, under the aegis of the Interacademic Group for Development, the World Meeting held in the prestigious venue of 3 Mazarine, the new auditorium of the Institut de France (Paris, France). It included two main events, a scientific symposium and a day of round tables open to all audiences, accompanied by several satellite workshops in Île-de-France.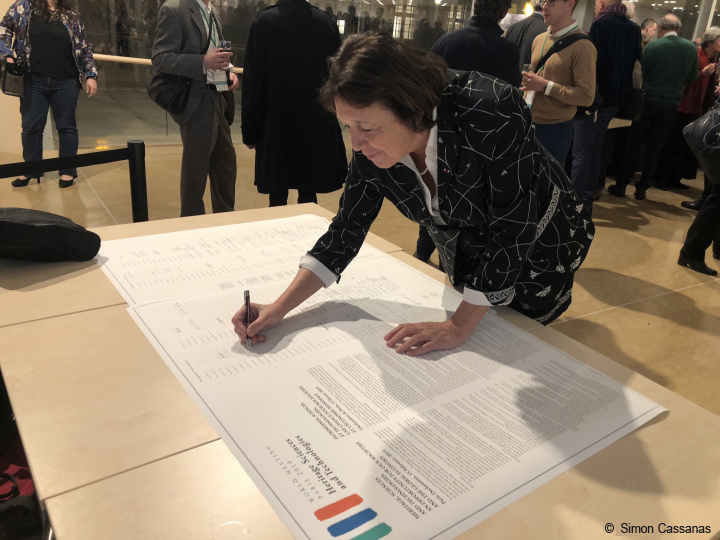 Heritage, Sciences and Technologies: an opportunity for our societies and the global economy - Paris Declaration, 15 February 2019
In the context of this meeting, participants adopted a déclaration calling for action to mobilize knowledge to improve the understanding, preservation and enhancement of cultural and natural heritage in order to promote sustainable development
Join the Paris Declaration
The Scientific Symposium
Frontiers in Heritage Science held on 14 and 15 February 2019
.
See the Session Abstracts
Several satellite events were organized:
• 12 February 2019: users meeting of the European IPERION CH program
• 13 February 2019: Meeting on the progress of the scientific strategy of the European Research Infrastructure for Heritage Science, E-RIHS
• other events are in the process of being labelled.
Context
Cultural and natural heritage is at the heart of our societies. Making this heritage more accessible to all, protecting it and knowing it better are essential to better understand our history and to promote dialogue between cultures. Through sectors such as tourism and the creative industries, scientific research on heritage generates significant economic benefits. These sectors are a source of new jobs at different levels of training in various fields like heritage restoration, the dissemination of research results in museums or instrumentation.
Research on heritage materials (palaeontological, archaeological and cultural heritage materials) is currently undergoing a profound renewal. New research themes are emerging, such as the study of ancient environments, which provides a better understanding of mechanisms such as fossilization and the impact of societies on their environment. This renewal also involves the development of new methods, particularly in imaging (3D scanners, lasers, large-scale facilties, etc.) or data sciences, or applications to "new objects" such as ancient proteins (proteomics) and highly altered heritage materials. Through its interdisciplinarity, heritage research is revolutionizing the ways in which experimental sciences, the humanities and environmental sciences collaborate.
These new scientific questions will be at the heart of the World Meeting on Heritage, Sciences and Technologies. This Meeting is part of the Interacademic Development Group's mission to mobilize knowledge for co-development. A strong emphasis will be placed on the Mediterranean region and on new heritage jobs. The World Meeting is also being held as part of the development of the E-RIHS infrastructure (European Research Infrastructure for Heritage Science). It is supported by the European Commission (E-RIHS PP and IPERION CH projects) and by the Île-de-France Region (DIM Matériaux anciens et patrimoniaux).
Partner Academies
Académie des sciences* (France), Académie des beaux-arts (France), Académie des inscriptions et belles-lettres* (France), Académie des technologies* (France), Académie algérienne des sciences et technologies* (Algeria), Österreichische Akademieder Wissenschaften (Austria), Académie nationale des sciences, arts et lettres* (Bénin), Hrvatska akademija znanosti i umjetnosti* (Croatia), Accademia Nazionale dei Lincei* (Italy), Lebanese Academy of sciences* (Lebanon), Koninklijke Nederlandse Akademievan Wetenschappen (Netherlands), Akademie věd Českérepubliky (Czech Republic), Royal Society (United Kingdom), Kungliga Vetenskapsakademien (Sweden).
* academies members of the Interacademic Group for Development represented at the World Meeting.

Venue
3 Mazarine, auditorium de l'Institut de France
3 rue Mazarine
75006 Paris – France

Le 3 Mazarine
Built above the medieval ramparts of Philippe Auguste and located under the glass roof where money had been minted since 1789, "Au 3 Mazarine" aims to become one of the main places of expression and transmission of knowledge in France. Its contemporary aesthetic blends harmoniously into the architectural ensemble of the former Collège des quatre nations. Its advanced technologies will provide an ideal setting for the World Meeting on Heritage, Sciences and Technologies.

Scientific organisers
Loïc Bertrand, Denis Gratias, Philippe Janvier

International Scientific Advisory Committee
Michael Alram, Daniel Asmar, Catherine Bréchignac, Jelena Dukic, Jean-Pierre Ezin, Henri-Paul Francfort, Michèle Gendreau-Massaloux, Maria Grever, Nicolas Grimal, François Guinot, Kerstin Lidén, Isabelle Pallot-Frossard, Tatjana Petrasova, Dominique Perrault, Antonio Sgamellotti, Abderrahmane Tadjeddine, Stéphanie Thiébault, John Wood

Local Organizing Committee
Christian Auboyneau, Loïc Bertrand, Philippe Boncour, Bénédicte Charbonnel, Marion Doucet, Denis Gratias, Dalila Hebbadj, Jean-Paul Itié, Philippe Janvier, Tsiory Razafindrabe.